*Updated* Five Years of Service with Anime Boston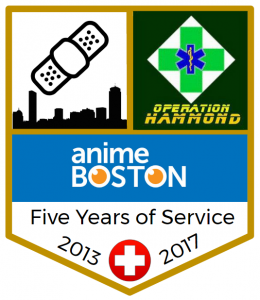 Updated 4/3/17: Anime Boston 2017 is done for this year. We would like to sincerely thank Anime Boston, the New England Anime Society, the Hynes Convention Center, Sheraton Hotel, Anime Boston Staff, all our members and all the attendees. Our celebration of Five Years of Service with Anime Boston has been our largest marketing campaign for a show partner to date. Without your continued support, our charitable mission would not be possible. We look forward to 2018 and beyond.
We will be returning to Anime Boston another fantastic year.This year marks our 5th year of providing world class First Aid and Social Medical care to the attendees, staff, and public of Anime Boston. We will be running a 24 hour First Aid station in the Sheraton hotel and will have First Aid patrols in the Hynes and surrounding area. The theme for Anime Boston this year is Retro. We designed a commemorative Five Year anniversary patch with our retro "Jurassic Park" logo for use during Anime Boston. 
Our members have worked closely with Anime Boston since our inception in 2012. We are proud to work in cooperation with the Hynes Convention Center and the Sheraton Hotel to provide 24 hour First Aid service during Anime Boston. 
To visit our special Anime Boston 2017 commemoration section please click here 
March 29th, 2017 For Immediate Release
Operation Hammond Celebrates Five Years of Service with Anime Boston.
Methuen M.A.- In commemoration of Operation Hammond's five years of service with Anime Boston they are launching their first ever unified marketing campaign at Anime Boston 2017. As North America's largest First Aid and Social medical charity for the nerd and pop culture community, this marks a historic milestone.
The members of Operation Hammond have been providing world class social medical and First Aid services to the attendees and staff of Anime Boston since 2013. Anime Boston is New England's largest and most celebrated Anime Convention. For the past five years, they have worked in cooperation with the staff of Anime Boston, Hynes Convention Center and the Sheraton Hotel to provide world class First Aid and Social Medical services. In celebration of the retro theme of Anime Boston, the campaign will have a unique nerdy retro feel and look.
"We value Anime Boston as one of our key convention partners, five years of service and partnership is a historic milestone." Said Alexi Vandenberg Head of Marketing for Operation Hammond.
The campaign will be reinforced with specific banners, promotional giveaways and apparel worn by Operation Hammond members. The campaign will run across all social media channels and www.OperationHammond.com during Anime Boston 2017. Be sure to follow Operation Hammond on Facebook, tumblr, and Twitter during Anime Boston for our latest updates, photos and more.
About Operation Hammond
Operation Hammond is an international non-profit organization of like-minded individuals within the anime, sci-fi, fantasy and pop culture convention community dedicated to bringing awareness of first aid, emergency preparedness and training to people who attend and staff anime, sci-fi, fantasy and pop culture conventions. The diversity and social dimensions of this social scene are unique. We are nerds helping nerds in times of need. Operation Hammond is headquartered in Methuen, MA with offices in Manchester, NH and Ottawa On, Canada. For more information visit www.OperationHammond.com
About Anime Boston
Anime Boston is a three-day convention held annually in Boston, Massachusetts, USA under the supervision of the New England Anime Society. Our focus is to celebrate and promote Japanese animation, comics, and pop-culture. For more information visit www.AnimeBoston.com
Contact:
Alexi Vandenberg, Rabid Fanboy Marketing
Head of Marketing Operation Hammond
484-868-1447
info@operationhammond.com
info@rabidfanboy.com