The Name Behind Operation Hammond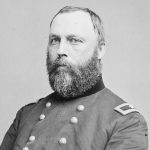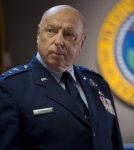 William Alexander Hammond was an American neurologist and the 11th Surgeon General of the U.S. Army. He is regarded as the father of pre-hospital emergency medicine. He pioneered the basic principles of pre- hospital care on Civil War battlefields and many of his techniques and teachings are still used to this day. He founded the first military hospital and ambulances in the United States as well as the American Neurological Association. He also shares the same last name as the fictional General George Hammond, Commander of Stargate Command from the Stargate SG1 TV series. It seemed only fitting to name ourselves after two of the best people in the field of medicine and fictional Sci-Fi.                                                                                                                                                                                                                                                                                                                                                           
How Operation Hammond was Formed



Operation Hammond was formed by a group of dedicated convention staffers from various anime and science fiction conventions. Individuals who attend anime, sci-fi and pop culture conventions have unique medical and social needs. Operation Hammond is unique in that, hitherto no one group has formed to effectively deal with the full medical and social needs of the pop culture community. We are the only non-profit First Aid Charity operating at the American Red Cross First Aid level for the nerd and pop culture community. Our founder James Fedora has been staffing conventions for years, and through his work, identified a rise in the number of people seeking medical care and/or requiring ambulance transport to hospitals for various injuries and illnesses. It seemed that both he and his convention colleagues were aiding an ever increasing number of individuals with a multitude of injuries both physical and emotional. Furthermore, many conventions appeared ill-equipped with loose and or virtually non-existent medical and social care departments, and/or policies for the aid of attendees.
No organization formally existed that could effectively organize members of the fan community to offer social and medical care in a pop culture setting, all while operating within local, state and national laws. The idea and concept of Operation Hammond were conceived in early 2012.
To learn about our history please click here.
About Operation Hammond Senior Staff Members
James Mandeville Fedora EMT, Founder, and Chairman. He has spent the past 6 years as an EMT in the UK and USA. He currently works for a private Emergency Medical Service. He is a veteran of the US Air Force serving as a mechanic and medical first responder. He is a frequent staff member of many anime and pop culture conventions, and over the past ten years has fulfilled many roles ranging from security, medical care, photography, and operations. To date, he has staffed over 70 conventions in the UK, Japan and USA. He has been an operations and safety adviser to many other pop culture conventions in the UK and USA. He has traveled around the world attending anime, sci-fi and pop culture conventions and is an Eagle Scout. He founded Operation Hammond, the only group dedicated to the unique medical and safety needs of pop culture/convention/event community.
Operation Hammond Senior Staff Members
Vice Chairman: Paul Malmsten, EMT
Treasurer: Rachael Botticelli, Patrol First Aider
Director of Clinical Training: Garret DeJong, Critical Care Paramedic, and First Aid/CPR Instructor
Department Heads/Advisers and Assistants 
Head Radio Master: Tandom Fox, Patrol First Aider
Grand Master of the Internet & I.T. Alexander Mecca, Patrol First Aider
Assistant I.T Coordinator: Keith Lee, Patrol Medical Responder
Assistant Quartermaster: Jean-Marie Patton,

Patrol Medical

Responder &

Supervisor
Head of Marketing and Public Relations: Alexi Vandenburg, Rabid Fanboy Marketing
Is Operation Hammond a non-profit organization?
Yes, we operate under the name of Operation Hammond First Response, Inc. We are incorporated as a non-profit in the state of Massachusetts and are a registered 501c3 non-profit with the IRS (EIN: 45-5007706).
Are members of Operation Hammond paid for their time or services?
None of our members, from our chairman to our volunteers, are financially compensated for their work. Each member volunteers their time and skills for the betterment of the fan and pop culture community.
What countries does Operation Hammond operate in?
We currently have brigades and members in Canada as well as the USA. For more information about Operation Hammond Canada please visit www.OperationHammond.ca Note: As of 7/16 the site is under construction.
I would like to have Operation Hammond at my convention or event.
Great, we are always looking to assist and attend conventions and events. Please see the Services link for more info.
What is Operation Hammond's yearly operating budget?
Our budget each year is anywhere from 9,000-14,000 dollars. Key line items in our budget are insurance, new equipment investment, maintaining current equipment, marketing/promotion, and training programs. To learn more on how you can donate to us please visit our Donation and Fundraising page.
How can I volunteer or join Operation Hammond?
We are always looking for new members. Click on our Volunteer link for more info.
I am a First Aider, 

EMT

or medical professional looking for work experience. Can Operation Hammond help me?
Absolutely, we are a fantastic place for new, existing EMTs, First Aiders or people in the medical community to keep their professional skills fresh or maintain their state and local training requirements.
Does the actor Don S. Davis who played General George Hammond in Stargate SG1 or his family endorse Operation Hammond?
No, not in any way, shape or form. However, his portrayal of General Hammond in Stargate SG1 inspired us to name our organization after him.
Sadly Don S. Davis passed away on June 29 2008. You can read about his biography and life here. 
What is an AED and how are they used to save lives?
Operation Hammond believes it is vital that everyone knows what an AED is and how simple they are to use. To learn more about Automated External Defibrillators and how they are used to save countless lives click here.
How much does Operation Hammond charge for its services? 
Operation Hammond strives to keep its services affordable to all conventions and events that request them whenever possible. We are very flexible when it comes to payment and fees for our services. For more information about our funding and payment model please visit our Funding model page.
I want to start a brigade (Chapter) of Operation Hammond.
That's fantastic. We are looking to start other brigades of Operation Hammond outside of the North East and Canada. Please contact us via email at info@operationhammond.com for more info.
Someone told me there are Easter Eggs hidden on your website?
We can not confirm or deny there are any Easter Eggs hidden on our website but you're more than welcome to search for them.
I heard you do kink events. Is that true? 
Yes,it is true we are a kink friendly organization. We have provided our services at many kink and fetish conventions. The kink and fetish community has first aid needs not at all dissimilar than the nerd, geek and pop culture community.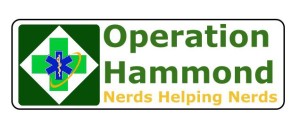 Was the dark of the moon on the sixth of June
In a Kenworth pullin' logs
Cab-over Pete with a reefer on
And a Jimmy haulin' hogs
We is headin' for bear on I-one-oh
'Bout a mile outta Shaky Town
I says, "Pig Pen, this here's the Rubber Duck.
"And I'm about to put the hammer down."
'Cause we got a little convoy
Rockin' through the night.
Yeah, we got a little convoy,
Ain't she a beautiful sight?
Come on and join our convoy
Ain't nothin' gonna get in our way.
We gonna roll this truckin' convoy
'Cross the U-S-A.
Convoy!
By the time we got into Tulsa Town,
We had eighty-five trucks in all.
But they's a roadblock up on the cloverleaf,
And them bears was wall-to-wall.
Yeah, them smokies is thick as bugs on a bumper;
They even had a bear in the air!
I says, "Callin' all trucks, this here's the Duck.
"We about to go a-huntin' bear."
'Cause we got a little convoy
Rockin' through the night.
Yeah, we got a little convoy,
Ain't she a beautiful sight?
Come on and join our convoy
Ain't nothin' gonna get in our way.
We gonna roll this truckin' convoy
'Cross the U-S-A.
Convoy!
Well, we rolled up Interstate 44
Like a rocket sled on rails.
We tore up all of our swindle sheets,
And left 'em settin' on the scales.
By the time we hit that Chi-town,
Them bears was a-gettin' smart:
They'd brought up some reinforcements
From the Illinois National Guard.
There's armored cars, and tanks, and jeeps,
And rigs of ev'ry size.
Yeah, them chicken coops was full'a bears
And choppers filled the skies.
Well, we shot the line and we went for broke
With a thousand screamin' trucks
An' eleven long-haired Friends a' Jesus
In a chartreuse micra-bus.
Well, we laid a strip for the Jersey shore
And prepared to cross the line
I could see the bridge was lined with bears
But I didn't have a dog-goned dime.
I says, "Pig Pen, this here's the Rubber Duck.
"We just ain't a-gonna pay no toll."
So we crashed the gate doing ninety-eight
I says "Let them truckers roll, 10-4."
'Cause we got a little convoy
Rockin' through the night.
Yeah, we got a little convoy,
Ain't she a beautiful sight?
Come on and join our convoy
Ain't nothin' gonna get in our way.
We gonna roll this truckin' convoy
'Cross the U-S-A.
Convoy!